Louis Jude Ferrigno (ur. 9 listopada 1951 roku w Brooklynie w stanie Nowego Jorku) – amerykański kulturysta i aktor.
Życiorys
Dorastał w rodzinie Amerykanów włoskiego pochodzenia podporucznika Policji Miasta Nowego Jorku, który zajmował się także podnoszeniem ciężarów, Matthew Ferrigno i Victorii. Mając trzy lata cierpiał na infekcji ucha i słyszał tylko w 80%. W wieku trzynastu lat rozpoczął intensywne ćwiczenia w podnoszeniu ciężarów. W 1969 roku ukończył nowojorską Brooklyn Technical High School. Mając 22 lat odniósł sukces zdobywając tytuł Mr. Universe '73 Międzynarodowej Federacji Kulturystów (IFBB). W 1974 roku przybywał w trzeciej części na swojej pierwszej próbie Mr. Olympia, a potem pięciokrotnie zdobył tytuł Mister Universum.
W 1977 roku wziął udział w indywidualnych Mistrzostwach Świata Strongman.
Po raz pierwszy przed kamerami pojawił się w dokumentalnym filmie sportowym Pompując żelazo (Pumping Iron, 1977) u boku Arnolda Schwarzeneggera. Sławę zawdzięcza komiksowej postaci superbohatera Hulka w telefilmach – Niewiarygodny Hulk (The Inceredible Hulk, 1977) z Susan Sullivan, Powrót niewiarygodnego Hulka (The Incredible Hulk: Death in the Family, 1977) i Panna młoda niewiarygodnego Hulka (The Incredible Hulk: Married, 1978) oraz serialu fantasy CBS Niewiarygodny Hulk (The Inceredible Hulk, 1978-82). Jednak rola herosa mitologii greckiej Heraklesa w przygodowym filmie fantasy Herkules (Hercules, 1983) przyniosła mu Złotą Malinę dla najgorszej nowej gwiazdy i nominację do tej antynagrody dla najgorszego aktora. Po udziale we włoskiej produkcji Siedmiu wspaniałych gladiatorów (I Sette magnifici gladiatori, 1983), wystąpił w roli Sindbada w filmie Sindbad: Legenda siedmiu mórz (Sinbad of the Seven Seas, 1989). Pojawił się w roli siebie samego w hollywoodzkiej komedii Stary, kocham cię (I Love You, Man, 2009).
Życie Prywatne
Po rozwodzie z Susan Groff (1978-1979), w dniu 3 maja 1980 roku poślubił psychoterapeutkę Carlę Green. Mają córkę Shannę (ur. 1981) i dwóch synów – Lou Jr. (ur. 1984) i Brenta (ur. 1990).
Ciekawostka
Miał aż 198cm wzrostu

Zawody
1971 Pro Mr. America – WBBG, Teen 1
1971 Teen Mr. America – AAU, 4th, Most Muscular 5
1972 Pro Mr. America – WBBG, 2
1972 NABBA Mr. Universe, Tall 2
1973 IFBB Mr. America, Overall Winner
1973 IFBB Mr. Universe, Tall 1st, Overall Winner
1974 IFBB Mr. International
1974 IFBB Mr. Universe, Tall 1st, Overall
1974 Mr. Olympia, Heavyweight 2
1975 Mr. Olympia, Tall class, 3
1992 Mr. Olympia, 12
1993 Mr. Olympia, 10
1994 Olympia Masters, 2
Kilka zdjęć i filmików
Franco , Arnold i Lou w 25 rocznice powstania Pumping Iron
Hulk
Rola Herosa
Lou i Stan Lee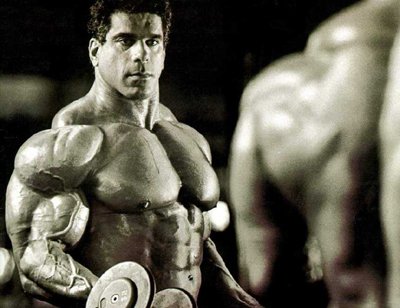 Lou i Chuck Norris on się wszędzie wbiję
Obok Doriana
Filmik
Pochwały przyznane za posta: 2